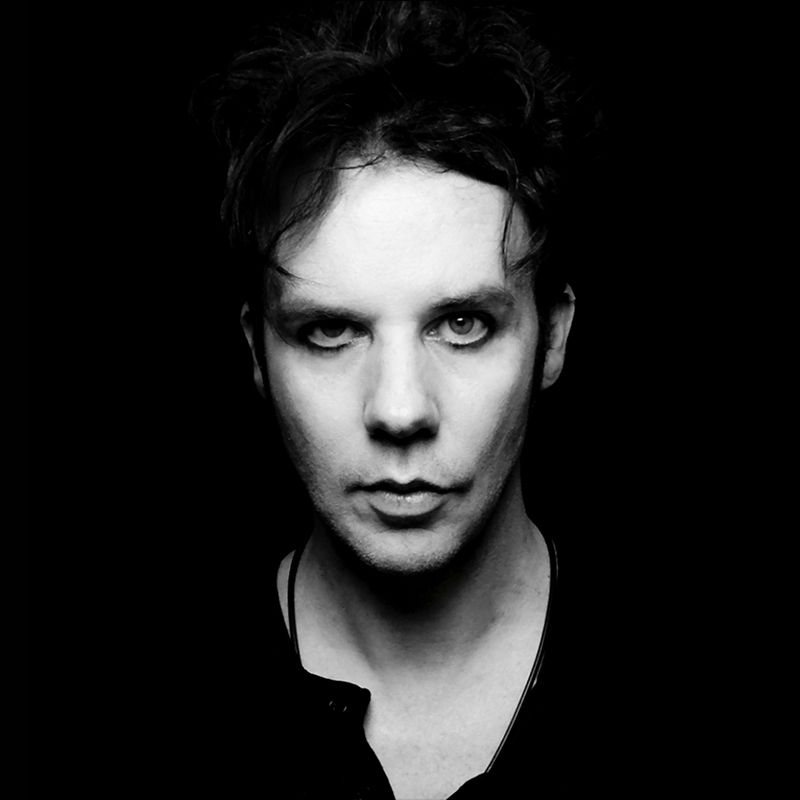 Now based in the USA, Ashton Nyte is a South African-born composer, singer, multi-instrumentalist, writer, and producer.  He has released 7 solo albums as Ashton Nyte, in addition to 11 albums as The Awakening, one of South Africa's most prominent alternative rock bands. He has contributed vocals and lyrics to a number of other projects, featuring members of The Cure, Cheap Trick, Peter Murphy, The Mission, and Beauty In Chaos, among others. 
Ashton has written and performed in theatrical productions and hosted philanthropic events, including his "Rock Against Rape" concert series and presenting a lecture series at US universities focusing on tolerance and acceptance. He has had songs featured in major television shows like Pretty Little Liars: Original Sin (HBOMax), The Purge (USA Network), and others.

He has been described by music journalists as "Johannesburg's Bowie" for his widely varying musical styles and theatrical performance approach. With a released catalogue of nearly 300 original songs, Ashton has enjoyed airplay and chart success on major independent radio stations around the world. Nyte's works have been featured on NPR/PRI in the USA, and he has performed live in-studio to 125 million listeners on the international radio show Border Crossings (Washington, DC). Nyte has toured extensively and headlined music festivals in the USA, Europe, and South Africa to upwards of 30 000 people.
2019 saw Ashton work on the score of the movie Don't Let Go with composer Ethan Gold, which premiered at the Sundance Film Festival in January 2019. He completed a 36-date European Tour with British indie artist Wayne Hussey (The Mission) in September / October 2019. Nyte released Waiting For A Voice, his 7th solo album, and his first book of poetry, short stories, and personal reflections in July 2020. He released The Awakening's 11th album, The Passage Remains, on 22 November 2022.
Discography (Ashton Nyte)
2020: Ashton Nyte - Waiting For A Voice
2017: Ashton Nyte - The Crying Game (Single)
2016: Ashton Nyte - Forgotten (Single)
2015: Ashton Nyte - Some Kind Of Satellite
2014: Ashton Nyte - Moederland
2010: Ashton Nyte - The Valley
2005: Ashton Nyte And The Accused - Headspace
2003: Ashton Nyte - Sinister Swing
2002: Ashton Nyte - Dirt Sense
2000: Ashton Nyte - The Slender Nudes
Bibliography (Ashton Nyte)
2020: Waiting For A Voice
Discography (The Awakening)
2022: The Awakening - The Passage Remains
2021: The Awakening - This Alchemy
2020: The Awakening - Clones (Single)
2018: The Awakening - Chasm
2013: The Awakening - Anthology XV (Collection)
2009: The Awakening - Tales Of Absolution + Obsoletion
2006: The Awakening - Razors Burn
2004: The Awakening - Darker Than Silence
2003: The Awakening - Sacrificial Etchings (Collection)
2002: The Awakening - Roadside Heretics
2001: The Awakening - The Fountain (EP)
2000: The Awakening - The Fourth Seal Of Zeen
1999: The Awakening - Sentimental Runaways (EP)
1999: The Awakening - The March (EP)
1999: The Awakening - Ethereal Menace 
1998: The Awakening - Request
1997: The Awakening - Risen
Discography (other projects)
2022: Le Cygne Noir - Doctor Doctor (single)
[lead vocals]
2020: Beauty In Chaos - Chaos Continues
[co-wrote and vocals on 2 tracks]
2020: Beauty In Chaos - Out Of Chaos Comes…
[co-wrote and vocals, instrumentation, mix, production on 1 song + co-wrote and vocals on 4 tracks ]
2020: Beauty In Chaos - The Storm Before The Calm
[co-wrote and vocals (and vocal mix) on 1 song]
2019: Beauty In Chaos - Bonus Re-Envisions
[co-wrote and vocals on 3 tracks. backing vocals on 3 tracks]
2019: Beauty In Chaos - Beauty Re-Envisioned
[co-wrote and vocals on 3 tracks. backing vocal on 2 tracks]
2019: Ethan Gold - Don't Let Go (Original Motion Picture Soundtrack) 
[instrumentation, mix, and production on 12 pieces]
2018: Beauty In Chaos - Finding Beauty In Chaos
[co-wrote and vocals on 3 songs. backing vocals on 3 songs]
2018: MGT - Gemini Nyte
[co-wrote, co-produced, vocals (and vocal mix) on all 15 songs + additional guitars (and sole writer) on 1 song]
2018: MGT - The Assembly Line (Cured Mix) (Single)
[co-wrote, co-produced, vocals (and vocal mix) on both songs]
2018: MGT - Every Little Dream (Single)
[wrote, co-produced, vocals (and vocal mix) and additional guitar on the song]
2017: MGT - All The Broken Things (Single)
[co-wrote, co-produced, vocals (and vocal mix) on both tracks]
2016: MGT - Volumes
[co-wrote and vocals (and vocal mix) on 3 songs]
Bookings and other enquiries